in English
What's Hachimenroppi?
Launched e-commerce services for restaurants in Tokyo and three other prefectures. Instead of relying on the traditional procurement route from the central wholesale market, build unique procurement channels sourcing products from local markets and producers nationwide, creating a network for low cost and high-quality items offered in a wide selection. This has allowed us to secure major support from individual small- and medium-sized restaurants committed to the quality of their food.
Clients
Built on the concept of only maintaining a roster of clients that we would personally want to patronize, even if others would be profitable. We believe this business model will allow us to gain the support of society in the medium- and long-term and ultimately be profitable.
141(Hiroo)

Mamashita(Ebisu)

Kageyamaro(Jiyugaoka)

BEE8(Shibuya)

pipal(Shibuya)

Sakanabar(Roppongi)

Oto(Asakusa)

Teriya(Musashi Koyama)

Kohakukyu(Marunouchi)

Shiki no Sato(Asakadai)

Otaru Masazushi(Ginza)

Nami no Ue(Ebisu)

Asobigasaki(Roppongi)

Napule(Roppongi)

Yamakashi(Hachioji)
---
Products
Procuring seafood, fruit/vegetables, and meat not only from the central wholesale market, but local markets and producers nationwide.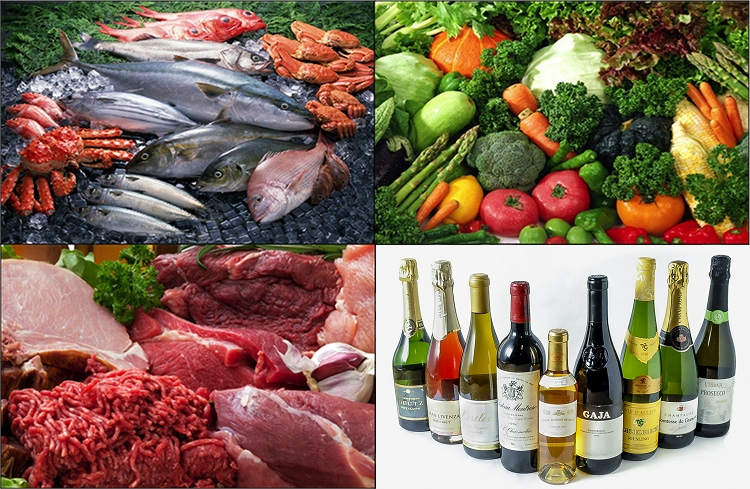 *Alcohol is sold through Hachimenroppi Alcohol, Inc. (a wholly-owned subsidiary).
*Product lineup changes from day to day. There are on average 2,000-3,000 items listed.
Strengths
System development
Perishable food is an area existing package systems struggle to accommodate; independently develop and operate not only a shopping site management system, but payment management systems, shipping/fulfillment systems, warehouse management systems, and marketing systems.
Product lineup
A supply chain management system that involves clients and suppliers allows us to focus specifically on perishable foods and high mix, low volume lots that major companies struggle with. In addition, long years of existing relationships allows for setting beneficial terms regarding payment sites and procurement costs, etc.
Logistics
Existing courier companies struggle with same-day chilled delivery. Creating a dominant structure in-house for these deliveries will allow us to manage delivery timeframes, costs, and shipment area. Operating our own fulfillment center also allows for efficiently managing product quality and sanitation.
Payment management
Partnering with Raccoon Co., Ltd. to obtain purchasing data we have accumulated for over five years. This allows us to build a unique payment infrastructure for small- and medium-sized restaurants the credit management of which existing payment methods failed to accommodate. In addition to further filtering, liquidating debts allows for creating a business structure in which operating capital is not needed.
Marketing
Instead of a sales style dependent on specific personnel, using social media and ad networks to acquire new clients and achieve low CPA. Integrated management of client data and use of a marketing automation system also allows for improving ARPU and efficiently and cost-effectively managing clients.
Organization
Market Conditions
The market for "last one mile" distribution to downstream consumers (restaurants) is estimated at 10T JPY in value. Patrons of these restaurants tend to prefer unique, individual shops to chain restaurants. However, the ingredients sought by small- and medium-sized restaurants are usually perishable foods which the major fulfillment operators do not excel at, and these small shops also do not have robust payment and distribution systems in place, so the major players tend to avoid selling to them. As a result, the market for distribution at the last one mile to small- and medium-sized restaurants is supported in an incomplete fashion by many tens of thousands of fragmented small- and medium-sized fulfillers.
In order to focus primarily on perishable foods (seafood, vegetables/fruit, meat, etc.), an area major delivery agents do not excel at, build up a structure that incorporates information systems and other advances while slowly building out a portfolio of small- and medium-sized restaurant clients, shoring up payment processing and logistics, and ultimately procurement. Then, using those business structures and capital to actively expand into the non-perishable foods (frozen and alcohol) market, drive out major delivery providers and achieve the leading share of the market for fulfillment services on the "last one mile" to downstream consumers.
Strategy
Using IT to suitably meet the needs of small- and medium-sized shops allows for enhancing products, logistics, and marketing. Having external operators use these allows for changing costs to profits and maximizing free cash flow. Then reinvest free cash flow to expand share of market.
Company Profile
Company name
Hachimenroppi, Inc.
Established
May 14, 2007
Capital
35,000,000 JPY
Address
2-5 Toyomi-cho, Chuo-ku, Tokyo, 104-0055
Officers

President

Masanari Matsuda

---

History

May 2007: Established Energy Agent Co., Ltd. (now Hachimenroppi, Inc.)

June 2009: Energy Agent Co., Ltd. becomes functionally dormant.

April 2011: Launched the Hachimenroppi service.

December 2011: changed company name to Hachimenroppi, Inc.
Board of Directors
Representative director
Masanari Matsuda
Born in 1980. After graduating from the Kyoto University Faculty of Law, joined UFJ Bank Limited in April 2004. In October 2005, joined an independent venture capital firm and became a director of the company. In May 2007, went on to establish Energy Agent Co., Ltd. (now Hachimenroppi, Inc.) and became its president. In June 2009, became a director of G-Mobile, Inc., a company engaged in type 2 telecommunications services. In September 2010, stepped down as director of the company and launched the Hachimenroppi™ service in April 2011.
---
Director
Mitsuru Sekine
Born in 1968. After working at a business corporation and certified tax accountant office among others, joined Zappallas, Inc. (TYO: 3770) in June 2004 and took the position of Financial Controller while also serving in the Listing Preparation Office. Founded Lead One Co., Ltd. in February 2006 and took the position of Representative Director. Provided consultation on financial and accounting matters to mid-to-small companies. Joined Hachimenroppi, Inc. in October 2017.Took the position of Director in December 2018.
---
Director (non full-time)
Hiroshi Fukudome
Born in 1976. Joined Andersen Consulting (currently Accenture) in 1998. Became independent in 2001. Established Change, Inc. (TYO: 3962) in April 2003 and took the position of Representative Director, CEO, and President. Has a wealth of experience with projects in e-business strategy formulation, corporate management plan formulation, establishment of overseas subsidiaries, BPR, and other subjects for information communication, high-tech manufacturing, system integration, infrastructure, central ministries and agencies, local governments, electric power, travel, hospitals, public corporations, transport, and educational corporations. Attempting to commonize parts and construct the architecture for a NewERP platform in thefinance industry and working on an enterprise transformation project through mobile and IoT devices. Took the position of Outside Director of Hachimenroppi, Inc. in December 2018.
---
Director (non full-time)
Atsuko Toda
Born in Tokyo in 1962.CFACharterholder. After starting as an analyst of Japanese stocks for foreign institutional investors at Nomura Securities Co., Ltd. in 1985, conducted research on European stocks for institutional investors at the London branch and formulatedproposals involving factor investing strategies for institutional investors in Tokyo.Began constructing a business foundation for RS Asset Management Co., Ltd. (currently Bayview Asset Management Co., Ltd.) in 1999. Conducted product management for Japanese stocks and other yen-backed assets at Goldman Sachs Asset Management Co., Ltd. since 2003 and at Asuka Asset Management Co., Ltd. since 2007. Began supervising the Operations Department ofDeutsche Asset Management Co., Ltd. as the CIO. Joined BlackRock Japan Co., Ltd. as the Managing Director in 2016. Took the position of Outside Director of Hachimenroppi, Inc. in December 2018.
---
Auditor
Rina Sumino
Born in 1980. Certified Public Accountant (Japan). After graduating from The University of Tokyo Faculty of Economics, joined an accounting firm in 2002 and experienced audit of listing companies. After that, experienced M&A advisory (financial due diligence, valuation, financial advisory etc.) at PricewaterhouseCoopers and KPMG. In 2013, joined Recruit Holdings Co., Ltd and experienced M&A related job. In June 2018, became an auditor of Hachimenroppi, Inc.
---
Auditor (non full-time)
Eisuke Ito
Born in 1978. After graduating from the School of Political Science and Economics at Waseda University in 2001, worked at a major auditing firm to provide auditing for firms preparing for public launch and IPO. Launched the Ito Accounting Office in 2005. Supporting accounting, taxation, and financing functions and assisting with share issues and reorganization for startups, as well as asset management for enterprise and indivual clients. In May 2007, joined Energy Agent Co., Ltd. (currently Hachimenroppi, Inc.) as external auditor.
---
Auditor (non full-time)
Taisuke Matsumoto
Born in 1980. Graduate of Kyoto University Faculty of Law. An accredited lawyer affiliated with the Field-R legal offices. Provides legal and PR support to clients in the fields of sports, entertainment, advertising, and other areas. In June 2013, became external director of Hachimenroppi, Inc. In June 2018, became external auditor of Hachimenroppi, Inc.
---
Investors
Business Expansion
This area has posed numerous difficulties in the past, but by expanding the amount of goods distributed to meet the "last one mile" in downstream demand will allow for improved logistics and greater improvements in procurement, thereby shoring up pricing, quality, and lineup. As a result, this will lead to greater demand and create a unique future marketplace position which competitors cannot reach. Eventually secure 100,000 JPY in average monthly purchases from 30,000 shops and reach 3B JPY a month.
Next, using acquired logistics data, offer A: personnel filling service for cooks; B: shop opening financing service for cooks; and C: overseas expansion support to promote distribution of goods worldwide.
Traditional financial organs will generally not lend to cooks with no credit; treating their past transactions, skills, and delays in payment as a form of negotiable credit from a big data standpoint allows for achieving a greater fidelity of lending. In the rare event that financing should dry up, use collateralized financing allocate a different cook suitable to the property and claw back loans. Selling shop interior design/construction, construction materials, and plateware/cutlery, the intended use of this financing, through a dedicated group company allows for developing a new business.
Offering a service within and without Japan that incorporates the aforementioned sales and HR services and financing in a comprehensive fashion is expected to yield 10billion JPY in annual sales by 2020.